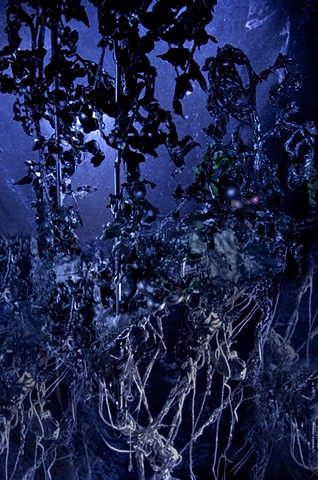 Forrest MacDonald
Visual artist whose art involves around themes of interdependence of mutually dependent life forms, the transitory nature of existence, urban street culture and re-purposing personal obsolete technologies into sculptures.


EDUCATION
MFA Studio Art / University of South Florida 2012
BSJ photojournalism / Univ of Kansas 1989
PUBLICATIONS AND MEDIA:
Feature and interview in
Jayhawk Journalist magazine Summer 2019 Edition
University of Kansas Journalism School
Lawrence, Kansas
https://jayhawkjournalist.com/highlighting-humanitys-role-in-destroying-the-environment
Artborne Magazine April 2017
https://artbornemagazine.com/forrest-macdonald-the-artist-as-both-creator-and-destroyer-of-worlds/
HOW magazine "International Design Awards Winners 2017" for the 2016 Ringling College of Art & Design viewbook / catalog.
http://www.howdesign.com/international-design-awards-winners-2017-editorial/#.WHtVA4t2FD0.facebook
Orlando Sentinel newspaper "Art in Odd Places 2016"– Nov 13th, 2016.
http://www.orlandosentinel.com/entertainment/events/os-pictures-art-in-odd-places-orlando-2016-photogallery.html
Miami News Times Dec 5th, 2015 "The Satellite Show Filled SurfMed…" featured my photograph "Dave and Dave" in a story about the unconventional satellite show I was a part of titled "Tiger strikes asteroid" at Art Basel in Miami Beach. Florida.
http://www.miaminewtimes.com/arts/the-satellite-show-filled-surfmed-pharmacy-with-experimental-sights-and-sounds-8099973
Creative Loafing Tampa Bay edition "Tiger Strikes Astroid / Art Basel
http://www.cltampa.com/arts-entertainment/article/20763888/art-basel-miami-beach-tampa-bay-artists-made-a-mark#.Vxk2dXCr-u4
Orlando Sentinel newspaper Sept 2015 "Art in Odd Places turns downtown into a gallery".
http://www.orlandosentinel.com/entertainment/arts-and-theater/os-art-in-odd-places-orlando-20150914-story.html
Photography also published in:
American Artist magazine
American Theater magazine
Photo Insider magazine
How magazine
Print magazine
Step inside Design magazine
Verge magazine
Urban Times magazines
Four catalogs for Ringling College of Art & Design.