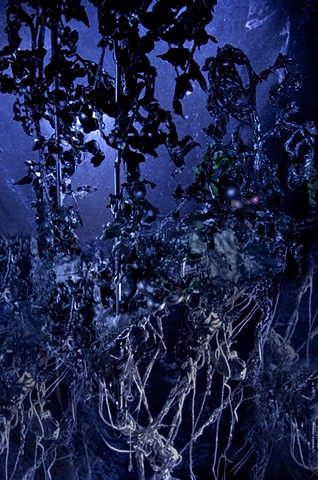 Forrest MacDonald is a visual artist that was born and raised in Kansas City. He holds a Bachelor in Science of Journalism with an emphasis in photojournalism from the University of Kansas, and a Master of Fine Arts in studio art from the University of South Florida.
MacDonald's artwork has been shown in three solo and seventeen group exhibitions in museums and galleries throughout Florida including Tampa, Orlando, New Smyrna Beach, Sarasota, Tallahassee and Miami.
His prior artwork involved around themes of interdependence of mutually dependent life forms, the transitory nature of existence, urban street culture, and re-purposing personal obsolete technologies into sculptures.
MacDonald's latest art series "Comrades Interrupted" measures 83" x 54", It consists of 102 archival giclee prints mounted on 4" x 7" wooden panels that have the sides covered in holographic vinyl that shifts colors depending on your vantage point.
Comrades Interrupted took over a year to capture and create, is meant to facilitate conversations on love and loneliness, war and peace and what it means to find a human connection.
MacDonald, moved to Florida in 1989, he has taught at Ringling College of Art & Design, USF College of Art & Art History, New College of Florida, the Art Institute of Tampa and HCC Ybor campus. He is a working artist that currently lives with his husband and their dog Emily in Tampa, Florida.
PUBLICATIONS AND MEDIA:
Feature and interview in
Jayhawk Journalist magazine Summer 2019 Edition
University of Kansas Journalism School
Artborne Magazine April 2017
forrest-macdonald-the-artist-as-both-creator-and-destroyer-of-worlds
HOW magazine "International Design Awards Winners 2017" for the 2016 Ringling College of Art & Design viewbook / catalog.
Orlando Sentinel newspaper "Art in Odd Places 2016"– Nov 13th, 2016.
Miami News Times Dec 5th, 2015 "The Satellite Show Filled SurfMed…" featured my photograph "Dave and Dave" in a story about the unconventional satellite show I was a part of titled "Tiger strikes asteroid" at Art Basel in Miami Beach. Florida.
Creative Loafing Tampa Bay edition "Tiger Strikes Astroid / Art Basel
Orlando Sentinel newspaper Sept 2015 "Art in Odd Places turns downtown into a gallery".
Photography also published in:
American Artist magazine
American Theater magazine
Photo Insider magazine
How magazine
Print magazine
Step inside Design magazine
Verge magazine
Urban Times magazines
Four catalogs for Ringling College of Art & Design.